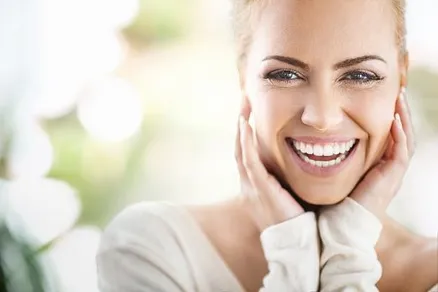 Teeth Whitening in the Claremore, OK & Tulsa, OK area
For Our Tulsa, OK Location, We Are Serving The Neighborhoods of Brooktowne, Westside, Greater Oakview, South Bolewood, Plus More!
Are you interested in whitening your teeth? If so, you are not alone. Whitening treatment is the most popular cosmetic dental procedure we offer at Healthy Smiles Family Dentistry. That is because in-office whitening takes place under carefully monitored conditions which allow for the use of a high concentration bleaching gel. At-home bleaching products typically incorporate low-dose bleaching agents that may lead to poor results. Our professional whitening treatment can help you see results immediately!
Stains Removable and Resistant to In-Office Whitening
While in-office is extremely effective in removing most stains, some are still resistant to treatment. Chairside whitening is most effective with stains caused by:
Consumption of certain foods and drinks—coffee, red wine, soda, and dark vegetables and fruits have long been known to stain enamel.
Smoking or tobacco use
Aging—Over times your enamel begins to thin, which allows more of your dentin (material underneath enamel) to show through. This can give your teeth a yellow, brown, green, or even grey hue.
Stains that may be resistant to in-office treatment are usually caused by:
Trauma—Trauma to your teeth can cause your dentin to darken significantly.
Tetracycline antibiotics—These drugs can chemically bind to the structure of your enamel and dentin if ingested during tooth-formation.
Overexposure to fluoride can result in tooth discoloration.
Inorganic stains may cause your teeth to look dark, even after treatment.
In-office Whitening Procedure
Before we begin, our dentists will make a record of your current shade, by taking a few photographs. This will help us assess your progress. Next, your teeth will be cleaned and polished to remove any plaque from the surface. We will use a cheek retractor to expose then your teeth that are visible when you smile and apply a rubber dam to protect your gum tissues. Then, our dentists will apply a bleaching gel to the teeth, which is kept on for about 30 minutes.
After the 30 minutes is up, we will remove the gel and apply a fresh coat, which is kept on for an additional 30 minutes or so. Between applications, your teeth will be checked to see how well they have whitened. Once you are finished with the second coat, our dentists will remove the gel and cheek retractors, and ask you to rinse out your mouth. Immediately following treatment, your teeth can be up to eight shades whiter! If the shade is not satisfactory, our dentists may recommend at-home treatment.
At-Home Whitening
If you are interested in continuing the whitening process at home, our dentists will recommend a custom-fit bleaching tray. During your appointment, we will take a molded impression of your teeth and use it to fabricate a tray made specifically to the dimensions of your mouth. Not only does this provide superior comfort, but it also allows for the proper exposure of the bleaching element. After your tray is finished, we will give you a bleaching agent that is much stronger than store-bought alternatives.
While there are many bleaching methods available at your local drug store, they typically prove to be less effective. The boil-and-bite trays can also lead to errors in the bleaching process due to a poor fit. Bleaching is a continuous process. The stains will eventually come back if you continue to eat and drink certain foods. We recommend scheduling regular check-ups and cleanings so we can monitor your oral health and continue the whitening process.
Schedule Your Appointment Now!
If you would like to brighten your smile, call our Tulsa, OK office at (918) 749-0303 or Claremore, OK office at (918) 343-4300, and schedule your Teeth Whitening appointment now! Call Healthy Smiles Family Dentistry Today!