Green Country School of Dental Assisting presents a twelve-week Dental Assisting Program providing 72 hours of lecture/lab preparation. The course covers the basic skills necessary to assist the Dentist in an entry level position in the various operative procedures performed in a dental practice.
The following courses will be covered throughout the training:
Orientation to the dental profession
Dental Charting
Dental X-ray techniques
Dental Materials
Preventive and Restorative Dentistry
Dental Anatomy and Physiology
Sterilization and Infection Control
Instrumentation
Clinical Procedures
Cover Letters and Resumes
Tuition
Total Cost $3045.00 - which includes:
Tuition : $2320.00
Items of Extra Expense Fee : $690.00 (Includes dental assisting permit fee, Radiation Safety Course, book bag, lab coat, scrubs, safety glasses, name tag, gloves and masks and all dental supplies needed for program)
Application Fee: $35.00

Click here to download the school application (PDF).
Dental Assisting Photos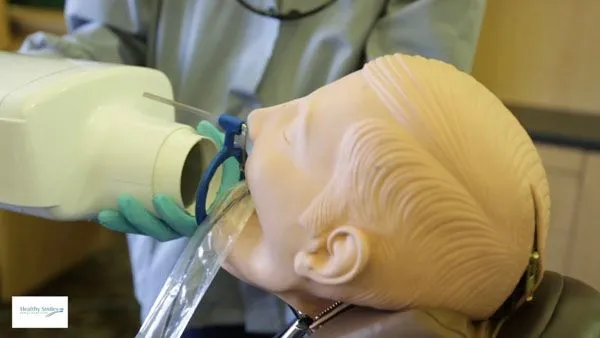 Frenquently Asked Questions
Why is your training program shorter than other dental assisting programs?
Although our training program is shorter than most, our research has found that some lengthier programs do not necessarily focus on what is most important in producing well prepared, qualified dental assistants. We have condensed the information into an intense twelve-week program focused strictly on the information that a dental assistant needs for an entry-level position in a dental office. By offering our school in an actual dental office, we have been able to eliminate hours and hours of lecture material that actually deprives a student of the more beneficial opportunity to work in a genuine dental operatory.
Will I be a Certified Dental Assistant when I complete your program?
Certification laws for dental assistants vary from state to state. In Oklahoma, a dental assistant is required to work in a dental office for two years before they can become eligible to take an Oklahoma Certified Dental Assistant Test. Therefore, the answer is no. However, you do receive a certificate of completion that shows you have completed dental assistant training.
Is your Dental Assisting program an accredited program?
GCSDA is fully licensed by the Oklahoma Board of Private Vocational Schools. Because our program is shorter than other programs, we are unable to go through an accreditation process.
Will I receive the same qualifications if I complete your shorter program as opposed to a longer training program?
Yes, with Dr. Hare and Dr. Reeder's combined dental experience since graduating from dental school in 1993, both dentists are very confident in knowing what is required of a training program to produce well prepared, qualified dental assistants. Much time and effort was put in to the development of the curriculum to ensure the GCSDA offers the most up-to-date information available in the field of dentistry.
Why is your program so different than the other available programs?
Our program is different and very unique in that it was developed by dentists with a focus on what a dentist is looking for when hiring a dental assistant. In Dr. Hare and Dr. Reeder's years of practicing dentistry, they have worked with numerous dental assistants who have received their training elsewhere. It was from these experiences that they were able to identify areas for improvement in the training process and incorporate an improved curriculum into the GCSDA program. Our program is held in an actual dental office as opposed to an ordinary classroom setting. Our office is equipped with the latest and most advanced equipment that is currently available, and we use only the most current dental materials on the market. Both doctors as well as the instructors are continuously participating in continuing education courses so as to keep our training programs as up-to-date as possible.
Green Country School Of Dental Assisting Financial Options
The total cost of the course is $3,045. This includes your tuition, books, supplies and personal protective equipment.
Full payment upon signing enrollment agreement. There is a 10% accounting reduction for payment in full by check or cash.
Three Month- No Interest ($35 Application fee due when applying, $690 deposit due 10-14 days before class begins, balance due by last day of class, can be made in monthly, bi-weekly or weekly installments.
MedPlan Credit - Third party lending institution for qualified applicants
Visa, Mastercard, American Express or Discover payment in full or installments as listed above.
Please call (918) 343-7188 or call/text (918)984-7095 or email the Program Director at [email protected] if you have any questions.